Kathryn starred in NBC's award winning hit series The West Wing as the President's (played by Martin Sheen) secretary Mrs. Landingham, but Kathryn is best known for her current role as Karen McCluskey on ABC's hit show Desperate Housewives. Kathryn won an Emmy in 2005 and in 2008 for Outstanding Guest Actress - Comedy Series for her role on Desperate Housewives.
As you may already know, Desperate Housewives is currently in its eighth and final season. This is sad news for the 120 million viewers worldwide who have tuned into the show, but many feel the show has run its course.
A major character on Desperate Housewives will meet their demise this season, and while even we don't know with any certainty who is marked for death, what we do know is that on February 19th Kathryn's character Karen McCluskey will be diagnosed with lung cancer. Whether or not this will spell death for Karen has yet to be seen. It is rumored that Marc Cherry vowed not to kill off Karen McCluskey because she is so well loved, but as Kathryn tells us, that's not entirely true.
In this exclusive interview, Kathryn talked to us about her career, her battle with lung cancer, and life in Los Angeles.
Update: It is with great sadness we announce Kathryn's passing. She died from lung cancer on June 2, 2012.  She was inspirational and a real class act. She will be forever missed.
Tell us how you got into acting. Was acting always your secret love?
I got into acting because I joined my town's community theater and I was hooked after the first play. I knew I had to continue to do that but, at the time, I never planned for it to become a career.

Since you got into acting late in life did you find you had to work twice as hard as aspiring actors in their 20s?
No, I had it easier because there are literally thousands of beautiful, sexy young 20-somethings trying to get started. I was 55 and able to do comedy. At the time sitcoms where all the rage and there were plenty of smaller roles for funny old ladies.
What kind of roles have you enjoyed the most and why?
I love doing comedy; it comes naturally for me.  But what I love most are drama scenes.  My most favorite scene is the 'dead sons' scene I did on West Wing.  I'm very proud of that.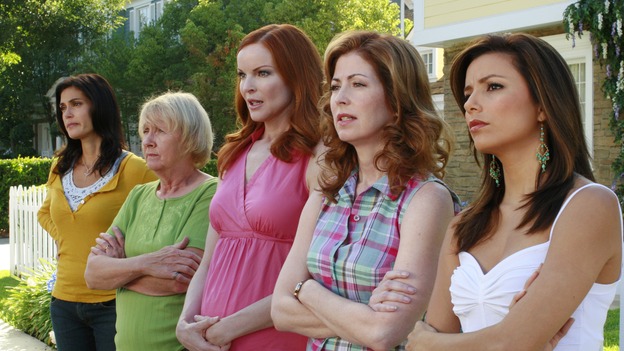 Teri Hatcher, Kathryn Joosten, Marcia Cross, Dana Delany, Eva Longoria | Photo © ABC/Ron Tom
Your role on 'Desperate Housewives' as Karen McCluskey has been so well loved that we heard that Marc Cherry vowed not to kill Karen off, but starting on February 19th, Karen will have lung cancer. How do you expect your fans to react to this?
Marc did not vow to not kill Karen because she was "loved."  He and I made that agreement when I came on the show because I'd just been killed off on a bunch of shows and I didn't want that to happen again.  I think the fans will be sad if Karen bites the big one.
You have said your character Karen McCluskey hasn't had a story in two years because they don't know how to write for people your age. Do you feel the development of Karen's lung cancer is in response to that?
No, not at all.  They are often writing to grab eyes, not to tell a real story.  And yes, very few writers, who are generally younger than the elders they are writing for, have any knowledge about old people other than the characterless.  Old funny is gags about sex (but only for old ladies, not the men generally), pills, and limited income or activity. Old people on TV are rarely real.
There seems to be a lot of social stigma around lung cancer because of a belief that people can only get it from smoking. How do you hope to influence this with Karen's cancer?
It is important to raise awareness and this storyline can help do that. Unfortunately, the stigma will remain prominent until more and more people who are affected with LC come forward.
As a two-time lung cancer survivor you must have a lot to bring to the role of a character with lung cancer, but it cannot be without its challenges. What is the most challenging part of this story arc?
First was working with the producers to make sure the material was true and accurate.  They have been wonderful about that.  Secondly, I joke about this being a practice session, but there is a cathartic aspect to it.
I am not, like Karen, going out with LC.  My health is good, but like any of you, for how long?  Who knows which of us will have a stroke, heart attack, cancer or whatever in the next year. Think about that.
Kathryn Joosten: Lung Cancer Profiles
When you were diagnosed 10 years ago how did you react? Do you have any advice for those who are recently diagnosed?
Having been a nurse I had a little more info than the normal patient. I had a terrific internist, who has since died.  I would get a chest x-ray when I had my every-6-months visit (he insisted, as I was over 65 and, yes, had been a smoker).  I would get the x-ray in the same building and bring it down for him to look at.  That first time, I saw the nodule, saw that it was not spreading but was quite solid and I knew it could be removed. There was also a great deal of denial about the idea that I had a cancer, but not that it was treatable.

I think those who are recently diagnosed have to find a therapist right away.  They obviously have an oncologist or surgeon or they would not have the diagnosis.  But it is essential to come to terms with what this diagnosis will mean to you and your family.  If not a therapist, at least a support group, which is easy to find on the web.
You're the national spokesperson for the Lung Cancer Profiles campaign on behalf of Pfizer. How did you become involved with that?
I was contacted by them to consider being a spokesperson for them.  I am very involved in the aspect of genetic analysis of one's cancer and think it is the right road to more and more targeted therapies.  I'm delighted that Pfizer has chosen to pursue this line of research and outreach.  It is so needed.
You can hardly walk down the street without seeing pink for breast cancer awareness, but what about lung cancer? Does lung cancer have a color and why don't we see more of it?
Susan G. Komen org - which just walked into a huge load of .... - had a brilliant campaign with the pink stuff.   Apparently they got so big as to become a political football.  Unfortunately, lung cancer organizations cannot seem to get themselves together.  It has about a dozen colors that various groups have tried to adopt, the most stupid one being "clear."
Until the various large NGOs can come together and agree on a national approach they will continue to jealously vie for followers and will continue to spend their efforts on 5 or 10 K walks for lung cancer with the emphasis on memorializing their dead relatives.  They do raise monies, but will remain small potatoes until they find a way to unite as one voice.
How can people get involved in spreading awareness about the fight against lung cancer?
Talk about it out loud.  Talk about relatives who have LC. Stop talking about smoking *and* lung cancer.   Do you know of ANY person who comments about someone's lung cancer and the next line isn't, "Did they smoke?"  Get involved and educate yourself.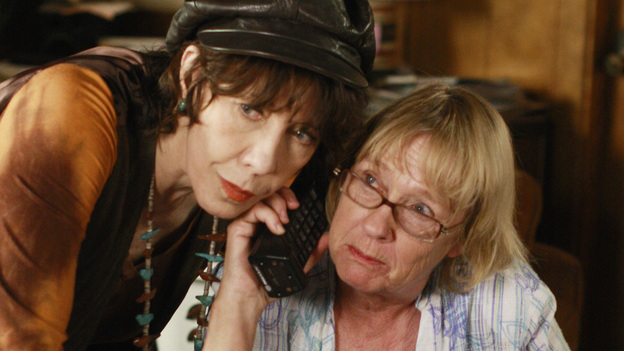 Lily Tomlin and Kathryn Joosten | © ABC
This current season of 'Desperate Housewives' is supposed to be the last. Do you have mixed feelings about this? What was your most memorable moment on the show?
Oh, sure.  'Desperate Housewives' has been my home for the last 8 years.  I even have my own home on the street. I take a nap on my couch on occasion. We were all sitting around on Gabby's (played by Eva Longoria) front porch commenting that this was such a great place to work.  Great weather, beautiful, yeah artificial, flowers. Where else do the workers get to sit with a cappuccino in a beautiful environment?

I think the episode I had the most fun with was the Tornado.
What's up next for you once 'Desperate Housewives' is over?
I have no idea.   I just bought a young filly and I am going to film my attempts to train her, with the direction of a real trainer, who will train me.  I hope to do it as a webisode or even sell it to a reality network.  Do you know anyone???
Kathryn Joosten on Life in Los Angeles
How did you know L.A. is the city for you? What made it click?
The Food!
There's some great food in L.A.; what's one place you think everybody should check out at least once?
I am absolutely in love with two places. "Taste Chicago" and "Casa del Campo."
Can you share with us any little-known L.A. gems?
The walkway next to the L.A. river between Colorado and Los Felix. It is all natural ... It has geese, ducks, fish, ibis, blue and white herons.
What are your favorite and least favorite aspects of L.A.?
Favorite? I never knew before moving here that there were so many hills in LA, and the housing choices. Least favorite: traffic.
How would you describe L.A. in one word?
Big!